May21, 1999 Hey, how's it going???
So umm.. Hey!! What's going on out there!?!? To much has been going on over here me. That's the reason why i'm only updating once a month anymore! I hate it, but i got way to much to do anymore. You know how it is: Things to see, places to go, people to do (i only wish), but yep, I'm running on E. The next month is going to be even worse, so updates will probably be very staggard again. Check my personal section for a more indepth review :) Deleted some old news and i took down the TermPapers bannar that was at the bottom of the screen to save on loading time. So umm..
Untill we meet again my friends.
April 13, 1999 Personal Section Up and Running!
Ok, it took me a while, but i finally got my personal section running. It's only about 33% complete, but the rest will be easier to get together now that i have the format finished. Included in the section is my new journal.... I will be poasting everything that is going on in my life there so i can try to keep this page small fast loading. Head on over and tell me what ya think!
Sorry Vera-Cruz, i havn't had time to start anything for you yet. Nag me more and i will! ;-)
March 30, 1999 Welcome "Vera-Cruz Records!"
Sorry for the lack of updates lately. I've been kind of busy lately. The weather has been wonderfull, so i have been catching up on the stuff that needs to be done. I've also been playing alot of Half-Life.
I was able to create a new logo for my friends recording studio. If you're in a band looking for a free break, stop by Vera-Cruz Records and you might find what your looking for....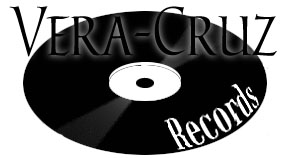 ...that's Vera-Cruz Records!
also designing a color logo AND a website for them, which is going to be my next major project. I'm going to try to throw some photographs together and post them on the personal section of this site too. So what does all this equal???? Answer: STRESS!!!! Untill we meet yet once again, keep it real.